Here's a video from the cruise
A few of the owners are interested in participating in Cruisin across Florida June 27th – 28th.  This is a multi-day paid event with optional hotel stay (recommended)
This is an multi day event starting from Daytona and ending up in Crystal Rivers.  It's for those of us who can not participate in the Hot Rod Power Tour.  Currently we have Pat, Rick and myself.  While this is a paid, pre register event only, with optional hotel stay(s), a few of us will be participating in this event.  Please use the comments to let us know if you are interested.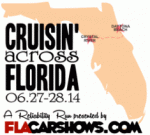 You're is invited to join us as we gather in Daytona Beach Friday afternoon. Attend the Welcome Party Cruise In with goody bags, Favorite Five awards, door prizes, 60/40 drawing, and more.
Saturday morning, take a photo of your car as the sun rises over the water, enjoy breakfast, then cruise the two-laners to Crystal River, with a lunch stop and some great photo ops along the way.
Saturday afternoon, check into the hotel in Crystal River, and enjoy dinner at Cracker's (on the water) in the early evening. Fifteen minutes away is the beach, where you can take another photo as the sun sets on the Gulf of Mexico.
Sunday morning, have some breakfast at the hotel or elsewhere, then head for home.
THIS EVENT IS PRE-REGISTRATION ONLY!
More info and to register, click here
– Rollcall (please use the comments to let us know if you are interested)