I hope everyone enjoyed themselves as much as I did.  We had 15 owners show up , cruise , have lunch and then park for some pictures and some socializing.
UPDATE April 29th – More images uploaded (should be complete now)
Most of the owners met at my house, not sure what my neighbors where thinking…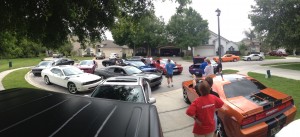 On the way to get a bite to eat in Titusville
Here are some of the pictures from the cruise

This is one of the largest panorama's I've ever done.  I had to reduce it by 75% just to fit it on the site.
To download an image, click on the image then click on the link above the image, just after "Published April 28, 2013 at"
If anyone would want a higher res image for printing or anything else let me know and I'll email you the image