We are pleased to announce our 4th annual Central Florida Challenger Owners (plus one Viper) Cook out or as we call it this year CFCOPOVCO… Ok CFCOCO.
Sept 5th (Monday Labor day)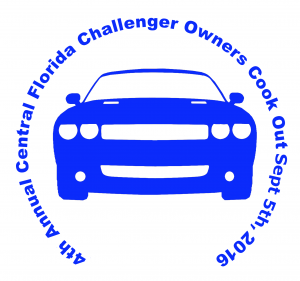 2016 11:30am –
Moss Park
12901 Moss Park RD
Orlando, FL 32832
Regular Park Admission Fee: $3 per vehicle for 1-2 people and $5 per vehicle for 3-8 people.   Pets and alcohol are NOT allowed in the park
Everyone is welcome and we hope to see some of the new members to the group. This is a great time for you to come out on to your first event with the group.  If you have not joined the group yet (simply by hitting the contact me button above), we can create an account for you at he cookout (we're not a club and joining the group is free).  This is a great time to come out and meet other Challenger Owners.
I'll be taking photos of the group and everyone's cars throughout the cook out.  Please bring your camera as well.
We skipped last year because of schedules and not being able to find a venue in time.  However we're back this year, thanks to Pat and Terry, who made the reservation at Moss park, for our 4th Annual CFCOCO
We ask everyone to bring a food item or condiments/utensils to share as well as your own beverages, sorry no Alcohol per park rules, to the cook out .  We'll come up with a list of items we need in the next day or two.  We are asking everyone who can make this to RSVP with the number of people they are bringing in the commnts below.  This also helps eveyrone have a good head count for food.   We also ask for items for the kids to play with like volley balls, horse shoes, basket balls…  There are volley ball and other courts we'll have access too.   This is a rain or shine event
Please note there is a slight entry fee to the park based on number of people per car. 
Please RSVP below with the number of people you will be bringing. Kids are very welcome.
Jim (4)
Pat (3)
David (5)
Shawn (4)
Ken Laura (3)
Rick
Ronnie (2)
Jim C (4)
Rob (3)
Eric (3)
If you can bring something please reply in the comments, note on some items, you don't have to take the whole line item.  also please do not hesitate to add something not listed.
Everyone please bring your own beverages (no alcohol allowed in park)
Hamburgers cheese- Jim
Hotdogs and buns – Shawn
Hamburger buns, chips, pickles and sausage for the grill – chips Jim C
Cookies and potato salad – Rick
Sides and a dessert – Rob
Plates cups napkins and chips – Eric
Homemade potato salad and baked beans – David
Ketchup/mustard – someone forget who
Barbecue items – charcoal lighter fluid foil – Pat
Plastic knives and forks – Eric
Ken Laura – a side and brownies